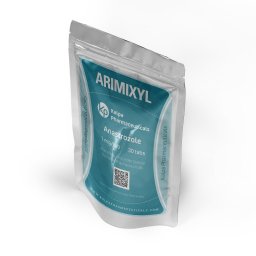 Kalpa Pharmaceuticals
Arimixyl
MADE BY: Kalpa Pharmaceuticals
AMOUNT: 30 tabs
DRUG CLASS: Aromatase Inhibitor
ACTIVE LIFE: 48 hours
AVERAGE DOSE: 0.25 - 1.0 mg/day
ACTIVE SUBSTANCE: Anastrozole 1mg/tab
Arimixyl Detailed
Arimixyl Kalpa Pharmaceuticals

Arimixyl 1 mg, an anti-estrogenic drug, was developed to treat advanced breast cancer in women.
It belongs to the newer class of third-generation selective oral aromatase inhibitors, blocking the enzyme aromatase and reducing estrogen production. This is crucial as many breast cancer cells are stimulated by estrogen, and lowering its levels may slow down the disease's progression. For male steroid users, Anastrozole 1 mg has shown great potential.
Previously, drugs like Nolvadex and Proviron were used to combat excess estrogen, but Arimixyl 1 mg offers better efficacy with less hassle. Arimixyl works by blocking estrogen action at the receptor without affecting its endogenous production. With a daily dosage of 1mg, it can suppress estrogen production by more than 80% in treated patients. Due to its potent effects on hormone levels, it is primarily prescribed to post-menopausal women.
Studies have demonstrated that 1mg Anastrozole can reduce estrogen levels in the body by approximately 50%. This is beneficial for bodybuilders, as some estrogen is necessary for achieving the full anabolic benefits of steroids. The dosage of 5mg or 1mg per day yields the same results, meaning that half a tablet is usually sufficient for estrogen control during a cycle. Arimixyl 1 mg functions as an aromatase inhibitor, effectively limiting estrogen buildup by blocking the aromatase enzyme.
This compound is highly advantageous for bodybuilders and athletes who use aromatizing steroids, such as testosterone. Bodybuilders typically start taking Arimixyl 1 mg on the first day of their cycle and continue throughout the entire duration of steroid administration. It is commonly used alongside Dianoxyl 10 mg and Testoxyl Cypionate 250 / Enanthate 250 and with Finasteride to stop estrogen conversion. Furthermore, it is worth noting that Arimixyl 1 mg can increase testosterone levels in the body.
Some studies have shown that natural testosterone levels can increase by as much as 60% after using this substance for seven days. As a result, bodybuilders find this drug highly effective during PCT when they aim to elevate natural levels to avoid a post-cycle "crash".
Please log in to write Arimixyl review.
Sun Pharmaceuticals Ind. Ltd.
Manufacturer: Sun Pharma
Substance: Anastrozole
Pack: 30 tabs (1 mg/tab)
Zydus Biogen
Manufacturer: Zydus Biogen
Substance: Anastrozole
Pack: 100 tabs (1 mg/tab)
Top 10 Dragon Pharma Products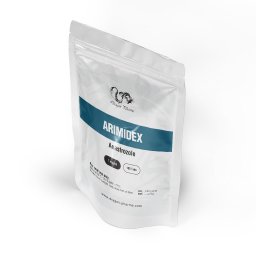 Dragon Pharma, Europe
MADE BY: Dragon Pharma
AMOUNT: 100 tabs
DRUG CLASS: Aromatase Inhibitor
ACTIVE LIFE: 48 hours
AVERAGE DOSE: 0.25 - 1.0 mg/day
ACTIVE SUBSTANCE: Anastrozole 1mg/tab
Knoll Healthcare Pvt. Ltd.
Manufacturer: Knoll Healthcare
Substance: Anastrozole
Pack: 30 tabs (1 mg/tab)