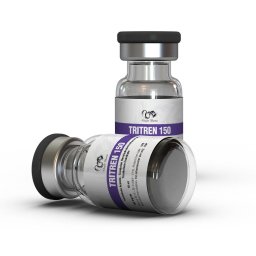 Dragon Pharma
Tri Tren 150
MADE BY: Dragon Pharma
AMOUNT: 10 ml vial
DRUG CLASS: Anabolic Steroid (for intramuscular injection)
ACTIVE LIFE: 8 days
AVERAGE DOSE: Men 50-150 mg/day (not recommended for women)
LIVER TOXICITY: Yes
AROMATIZATION RATE: None
DHT CONVERSION: None
DECREASE HPTA FUNCTION: Severe
ANABOLIC/ ANDROGENIC RATE: 500:500
ACTIVE SUBSTANCE:
Trenbolone Enanthate 50mg/ml
Trenbolone Hexahydrobenzylcarbonate 50mg/ml
Trenbolone Acetate 50mg/ml
Tri Tren 150 Detailed
Dragon Pharma Tri Tren 150

TriTren 150 is a combination of Trenbolone.
Trenbolone Acetate 50 mg.
Trenbolone Hexahydrobenzycarbonate 50 mg.
Trenbolone Enanthate 50 mg.
Dragon Pharma TriTren 150 is a steroid mix that is both androgenic and anabolic. Users of TriTren 150 report fast muscle gain and increased strength. After regular use, there is also visible muscle hardness without dieting. Unlike many androgenic steroids, TriTren 150 does not convert to estrogen, so there is no need to fight higher estrogen levels or feminization symptoms.
TriTren 150 Dragon Pharma also does not cause water retention in the tissue. When combined with a protein-rich diet, it accelerates fat burning and speeds up the metabolism. The high androgenic effect prevents overtraining and accelerates regeneration while giving muscles a vascular appearance and a shredded look.
The duration of taking TriTren 150 should not exceed 8 weeks. This steroid causes stress on the kidneys instead of the liver. Athletes who take high doses of this steroid for several weeks may have dark urine or excrete blood, indicating kidney damage. Drinking an additional gallon of fluid daily can help flush the kidneys. Trenbolone 150 does not cause water and salt retention, so blood pressure rarely increases. Some athletes experience nausea, headaches, and loss of appetite when injecting more than one ampule per week. Parabolan significantly decreases testosterone production, so using testosterone-stimulating compounds at the end of intake is recommended.
Athletes commonly inject Tri Tren 150 twice a week. When combined with Winstrol Depot, it can lead to solid muscle gain and strength. Some athletes use Dianabol for mass gain, while others use Anavar 50mg for quality and strength. TriTren 150 can also work well with growth hormones for exceptional results.
Please log in to write Tri Tren 150 review.