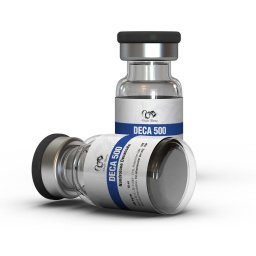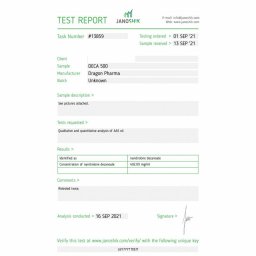 Dragon Pharma
Deca 500
MADE BY: Dragon Pharma
AMOUNT: 10 ml vial
DRUG CLASS: Anabolic Steroid (for intramuscular injection)
ACTIVE LIFE: 15 days
AVERAGE DOSE: Men 200-400 mg/week
LIVER TOXICITY: None
AROMATIZATION RATE: Low
DHT CONVERSION: Low
DECREASE HPTA FUNCTION: Severe
ANABOLIC/ ANDROGENIC RATE: 125:37
ACTIVE SUBSTANCE: Nandrolone Decanoate 500mg/ml
Deca 500 Detailed
Dragon Pharma Deca 500

Dragon Pharma Deca 500 is a commonly used anabolic steroid that contains Nandrolone Decanoate as its active ingredient. It is popular among athletes who use it for performance enhancement, as well as for off-season mass benefits and therapeutic purposes.
Deca 500 is strengthened by the Nandrolone base, which can attach to a large Decanoate Ester to regulate hormone release and reduce injection frequency. It's a well-tolerated steroid with low estrogenic activity and strong progestin nature.
To start, a dosage of 300mg-400mg per week is average. For cutting, 200mg-300mg is enough. Dragon Pharma Deca 500 can increase IGF-1 and protein synthesis, while limiting glucocorticoids. It can also prevent muscle loss by retaining nitrogen, which is important for muscle growth.
Deca 500 can provide joint relief by increasing bone mineral content and collagen synthesis, resulting in more Red Blood Cells. It can also improve geriatric weakness and fatigue, as well as anaemia. Additionally, it has been effective in treating breast cancers, ulcers, providing relief to burn victims, and improving symptoms of osteoporosis and after menopause syndrome in females. It can also help children with pituitary dwarfism by promoting development.
Bodybuilders often use this steroid for both bulking and cutting purposes.
An increase in oestrogen levels can lead to symptoms such as gynecomastia, high blood pressure, and excess water retention due to its oestrogenic activity and aromatizing nature.
Hyperandrogenism can cause symptoms such as acne, hair loss, and body hair growth. It may also lead to a rise in LDL and suppression of testosterone, which increases the risk of coronary disease. These side effects can be managed with appropriate medications.
Please log in to write Deca 500 review.