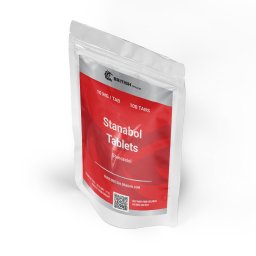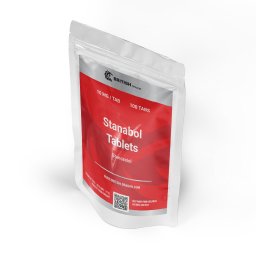 British Dragon
Stanabol Tablets
MADE BY: British Dragon Pharma
AMOUNT: 100 tabs
DRUG CLASS: Oral Androgenic Anabolic Steroid
ACTIVE LIFE: 8 hours
AVERAGE DOSE: Men 50-100 mg/day, Women 2.5-10 mg/day
LIVER TOXICITY: High
AROMATIZATION RATE: None
DHT CONVERSION: None
DECREASE HPTA FUNCTION: Low
ANABOLIC/ ANDROGENIC RATE: 320 : 30
ACTIVE SUBSTANCE: Stanozolol 10mg/tab
You will save 4.50 USD

Stanabol Tablets Detailed
Stanabol Tablets
The oral preparation of Stanabol Tablets, commonly known as Winstrol 10, is favored by bodybuilders as it allows them to avoid regular injections, which are typically required with the injectable version.
To ensure optimal results, it is recommended to take Stanabol Tablets on an empty stomach, as absorption may be hindered when taken with food. Some bodybuilders prefer to split their dosage throughout the day to maintain consistent blood levels.
Stanabol Tablets is a highly popular steroid due to its low androgenic properties and high anabolic properties. It does not have the ability to aromatize, preventing water retention and bloating, making it ideal for bodybuilders during the cutting phase of their training. Users of Winstrol 10 often experience significant gains in strength, vascularity, and muscle tone.
The compound also enhances protein synthesis and nitrogen retention, leading to intense muscle "pumps" during workouts. Additionally, it has been found to possess estrogen and progesterone blocking abilities, making it a suitable choice to stack with other steroids like Testabol, Decabol, or Trenabol.
Another benefit of Stanabol Tablets is its ability to reduce the amount of sex hormone-binding globulin (SHBG) in the body, allowing other steroids to remain in a free state. Consequently, Stanabol Tablets can be an excellent addition to any cycle. However, being a C17-alpha alkylated compound, it may exert hepatotoxic effects over time.
Thus, it is recommended to keep the dosage within a reasonable range and limit cycle duration to 10 weeks. It is also advisable to consider liver protectants and detoxifiers when using this steroid. Due to its low androgenic activity, Stanabol 10 mg is a popular choice for women bodybuilders. For males, the typical dosage ranges from 50-100 mg per day for 6-8 weeks, while women generally use 5-10 mg per day for 4-6 weeks.
Please log in to write Stanabol Tablets review.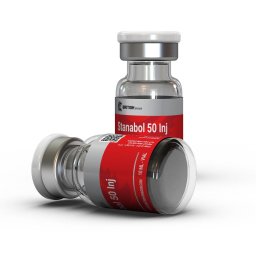 British Dragon Pharmaceuticals
MADE BY: British Dragon Pharma
AMOUNT: 10 ml vial
DRUG CLASS: Anabolic Steroid (for intramuscular injection)
ACTIVE LIFE: 48 hours
AVERAGE DOSE: Men 50-100mg/day, Women 5-10mg/day
LIVER TOXICITY: Yes, moderate when injected
AROMATIZATION RATE: Does not aromatize at any rate
DHT CONVERSION: None
DECREASE HPTA FUNCTION: Low
ANABOLIC/ ANDROGENIC RATE: 320:30
ACTIVE SUBSTANCE: Stanozolol 50mg/ml
Top 10 Dragon Pharma Products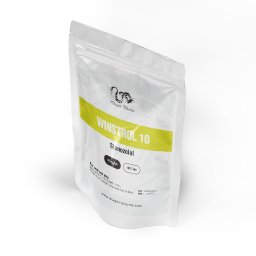 Dragon Pharma, Europe
MADE BY: Dragon Pharma
AMOUNT: 100 tabs
DRUG CLASS: Oral Androgenic Anabolic Steroid
ACTIVE LIFE: 8 hours
AVERAGE DOSE: Men 50-100 mg/day, Women 5-10 mg/day
LIVER TOXICITY: High
AROMATIZATION RATE: None
DHT CONVERSION: None
DECREASE HPTA FUNCTION: Low
ANABOLIC/ ANDROGENIC RATE: 320 : 30
ACTIVE SUBSTANCE: Stanozolol 10mg/tab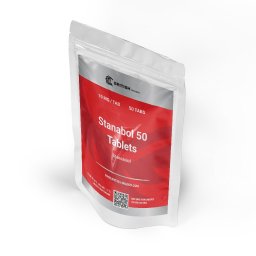 British Dragon Pharmaceuticals
MADE BY: British Dragon Pharma
AMOUNT: 100 tabs
DRUG CLASS: Oral Androgenic Anabolic Steroid
ACTIVE LIFE: 8 hours
AVERAGE DOSE: Men 50-100 mg/day, Women 2.5-10 mg/day
LIVER TOXICITY: High
AROMATIZATION RATE: None
DHT CONVERSION: None
DECREASE HPTA FUNCTION: Low
ANABOLIC/ ANDROGENIC RATE: 320 : 30
ACTIVE SUBSTANCE: Stanozolol 50mg/tab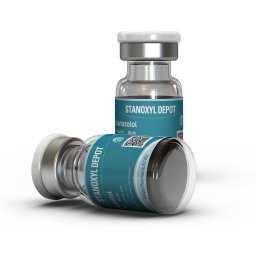 Kalpa Pharmaceuticals LTD, India
MADE BY: Kalpa Pharmaceuticals
AMOUNT: 10 ml vial
DRUG CLASS: Anabolic Steroid (for intramuscular injection)
ACTIVE LIFE: 48 hours
AVERAGE DOSE: Men 50-100mg/day, Women 5-10mg/day
LIVER TOXICITY: Yes, moderate when injected
AROMATIZATION RATE: Does not aromatize at any rate
DHT CONVERSION: None
DECREASE HPTA FUNCTION: Low
ANABOLIC/ ANDROGENIC RATE: 320:30
ACTIVE SUBSTANCE: Stanozolol 50mg/ml