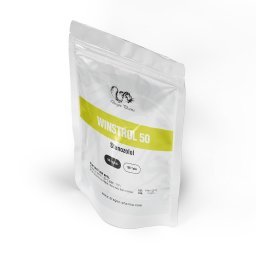 Dragon Pharma
Winstrol 50 mg
MADE BY: Dragon Pharma
AMOUNT: 100 tabs
DRUG CLASS: Oral Androgenic Anabolic Steroid
ACTIVE LIFE: 8 hours
AVERAGE DOSE: Men 40-100 mg/day, Women 2.5-10 mg/day
LIVER TOXICITY: High
AROMATIZATION RATE: None
DHT CONVERSION: None
DECREASE HPTA FUNCTION: Low
ANABOLIC/ ANDROGENIC RATE: 320 : 30
ACTIVE SUBSTANCE: Stanozolol 50mg/tab
Winstrol 50 mg Detailed
Dragon Pharma Winstrol 50 mg

Dragon Pharma Winstrol Oral is an oral alternative to the injectable version. It avoids the discomfort of injections. To avoid absorption problems, take it on an empty stomach. Bodybuilders may split their dosage throughout the day to keep blood levels consistent.
Winstrol 50 mg is a commonly used steroid. It has low androgenic properties and high anabolic properties. This drug doesn't cause water bloat because it cannot aromatize. This makes it popular among bodybuilders during the cutting phase of their training.
50 mg Winstrol Oral users frequently experience increased strength, muscle tone, and vascularity. During workouts, users may experience intense muscle "pumps" due to protein synthesis and nitrogen retention. Studies suggest that Dragon Pharma Winstrol Oral can block estrogen and progesterone, making it a popular choice to pair with other steroids like Cypionat or Trenbolone.
Winstrol 50 mg reduces SHBG in the body, allowing other steroids to be more abundant. It's recommended to keep dosage reasonable and limit cycle duration to 10 weeks due to potential liver toxicity. Liver protectants and detoxifiers should be considered. Winstrol Oral is a good choice for women bodybuilders due to low androgenic activity. Men typically use 40-100 mg/day for 6-8 weeks. Women use 2.5-10 mg/day for 4-6 weeks.
Please log in to write Winstrol 50 mg review.