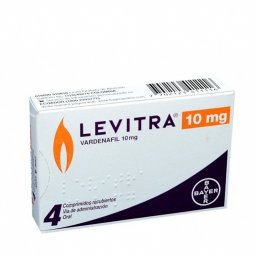 Erectile Dysfunction
Levitra 10 mg
Levitra 10 mg Detailed
Levitra 10 mg
Levitra 10 mg is utilized for treating erectile dysfunction in men. It enhances blood flow to the penis to facilitate erections.
It achieves this by aiding in the relaxation of blood vessels in the penis, enabling blood to flow in when sexual stimulation occurs. Levitra 10 mg can be taken on an empty stomach or with a meal, but strictly following your doctor's advice is crucial.
The medicine will only assist in achieving erections when sexually aroused. It should be taken approximately one hour prior to engaging in sexual activity. The onset time can vary from person to person, typically ranging between 30 minutes and one hour. Only take this medication if necessary and prescribed by your doctor. The most common side effects of this medicine include flushing, headache, dizziness, blurred vision, muscle pain, stomach upset, nasal congestion, and rash.
Consult your doctor if these side effects are bothersome or persistent. This medicine is not intended for use by women. Men should avoid using any other impotence-treating medicines without consulting a doctor. Combining this medication with nitrates (commonly prescribed for chest pain) can be hazardous. Refrain from taking this medicine if you have severe heart or liver problems, recently experienced a stroke or heart attack, or have low blood pressure. Prior to taking this medication, inform your doctor if you have any of these or other health conditions.
It may cause dizziness, so avoid driving while under its influence. Additionally, alcohol consumption should be avoided as it can amplify the side effects.
Please log in to write Levitra 10 mg review.
Dharam Distributors
Manufacturer: Dharam Distributors
Substance: Vardenafil
Pack: 100 tabs (20 mg/tab)
Centurion Laboratories
Manufacturer: Centurion Laboratories
Substance: Vardenafil
Pack: 100 tabs (60 mg/tab)
Centurion Laboratories
Manufacturer: Centurion Laboratories
Substance: Vardenafil
Pack: 100 tabs (20 mg/tab)
Signature Pharma, India
Manufacturer: Signature Pharma
Substance: Vardenafil
Pack: 30 tabs (20 mg/tab)