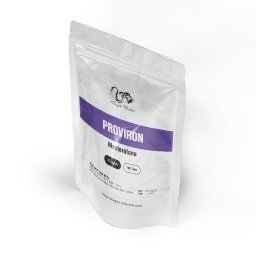 Dragon Pharma
Proviron
MADE BY: Dragon Pharma
AMOUNT: 100 tabs
DRUG CLASS: Andogenic Steroidal Agent (Oral)
ACTIVE LIFE: 8-12 hours
AVERAGE DOSE: 25-100 mg/day
LIVER TOXICITY: Low
AROMATIZATION RATE: None
DHT CONVERSION: None
DECREASE HPTA FUNCTION: No
ANABOLIC/ ANDROGENIC RATE: 100-150 : 30-40
ACTIVE SUBSTANCE: Mesterolone 25mg/tab
Proviron Detailed
Dragon Pharma Proviron
Dragon Pharma Proviron is a synthetic androgen commonly used by bodybuilders to alleviate side effects of steroidal treatment such as gynecomastia, water retention, and lowered sex drive. It is a Dihydrotestosterone derivative that effectively restores testosterone levels in the body.
Proviron 25 is a medication utilized for treating a variety of conditions such as hypogonadism, psycho-vegetative disorders, decreased working capacity, curbing sexual potency, male sterility, and aplastic anemia.
Men should take 25-100 mg of this medication daily, while women should take 25 mg per day. Women may experience androgenic side effects like voice deepening, menstrual irregularities, skin texture changes, and clitoral enlargement. Men may experience side effects like oily skin, acne, body or facial hair growth, exacerbation of male pattern baldness, extreme increase in libido, and potential behavioral and mood disorders.
Proviron Dragon Pharma should not be taken if you're hypersensitive, have prostate cancer, or liver neoplasms symptoms. Regular rectal prostate investigations are recommended during intake. Monitoring liver and kidney functions is also important. Adolescents should avoid using the drug to prevent premature cessation of growth and puberty. Acute overdose toxicity is low, but chronic overdose can lead to priapism.
Proviron 25 mg is commonly utilized during cycles and post cycle therapy alongside traditional anabolic steroids and testosterone products, as well as with Nolvaxyl to effectively suppress estrogen.
Store in a dry area, shielded from light, at a temperature between 15-25 °C. Ensure to keep it away from children.
Please log in to write Proviron review.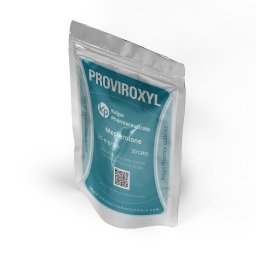 Kalpa Pharmaceuticals LTD, India
MADE BY: Kalpa Pharmaceuticals
AMOUNT: 30 tabs
DRUG CLASS: Andogenic Steroidal Agent (Oral)
ACTIVE LIFE: 8-12 hours
AVERAGE DOSE: 25-100 mg/day
LIVER TOXICITY: Low
AROMATIZATION RATE: None
DHT CONVERSION: None
DECREASE HPTA FUNCTION: No
ANABOLIC/ ANDROGENIC RATE: 100-150 : 30-40
ACTIVE SUBSTANCE: Mesterolone 25mg/tab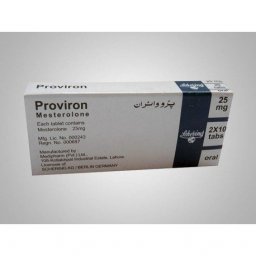 Bayer Schering, Turkey
MADE BY: Bayer Schering
AMOUNT: 100 tabs
DRUG CLASS: Andogenic Steroidal Agent (Oral)
ACTIVE LIFE: 8-12 hours
AVERAGE DOSE: 25-100 mg/day
LIVER TOXICITY: Low
AROMATIZATION RATE: None
DHT CONVERSION: None
DECREASE HPTA FUNCTION: No
ANABOLIC/ ANDROGENIC RATE: 100-150 : 30-40
ACTIVE SUBSTANCE: Mesterolone 25mg/tab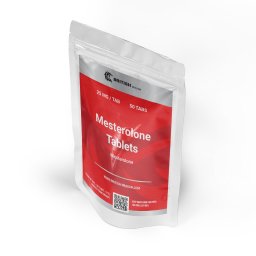 British Dragon Pharmaceuticals
MADE BY: British Dragon Pharma
AMOUNT: 50 tabs
DRUG CLASS: Andogenic Steroidal Agent (Oral)
ACTIVE LIFE: 8-12 hours
AVERAGE DOSE: 25-100 mg/day
LIVER TOXICITY: Low
AROMATIZATION RATE: None
DHT CONVERSION: None
DECREASE HPTA FUNCTION: No
ANABOLIC/ ANDROGENIC RATE: 100-150 : 30-40
ACTIVE SUBSTANCE: Mesterolone 25mg/tab
Top 3 Dragon Pharma Products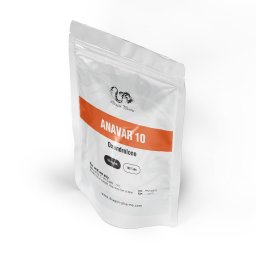 Dragon Pharma, Europe
MADE BY: Dragon Pharma
AMOUNT: 100 tabs
DRUG CLASS: Oral Anabolic Androgenic Steroid
ACTIVE LIFE: 8-12 hours
AVERAGE DOSE: Men 20-100 mg/day, Women 2.5-10 mg/day
LIVER TOXICITY: Low
AROMATIZATION RATE: None
DHT CONVERSION: Low
DECREASE HPTA FUNCTION: Dose-dependent
ANABOLIC/ ANDROGENIC RATE: 322-630:24
ACTIVE SUBSTANCE: Oxandrolone 10mg/tab